FC Barcelona - RCD Espanyol (08-05-2016)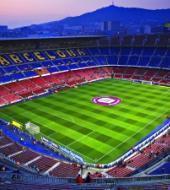 Because of the complexity of getting tickets (which are also often sold out at the stadium) Ticketbar simplifies the process for you. We offer the possibility to book your tickets in advance.
Book your tickets online to make sure you can cheer for FC Barcelona!
How does it work?
Select the box you want to sit Gol Baix or Gol 1/3.

After your order you will receive a confirmation email from us telling you where to pick-up the tickets in Barcelona (city centre, near Placa de Catalunya in the office of Nice Barcelona (official FC Barcelona Ticket Agent)
The tickets will be ready for you to pick-up under your name.
What are the advantages of booking online?
You don´t have to take care of complex booking processes.
Don´t trust the sellers outside the stadium. Make your booking online so you can be sure to visit the match!
You are sure you have seats when you visit FC Barcelona!
What more do you need to know?
We make reservations for the seats in the stadium. In most cases you can sit next to each other, but we can´t guarantee that! As you can imagine sometimes it is hard because of the enormous demand of the FC Barcelona tickets.
Sometimes the Spanish Football association changes the date of the match to a day later or before. Ticketbar can´t be held responsible for changes in your airplane tickets or hotel reservations. If a match is postponed (due to bad weather etc.), the tickets will still be valid for the new date. We always recommend you purchase travel insurance in case you require a date change/ cancellation of your flight and/or hotel reservations.

Tickets will be sent via e-mail!